Testimonials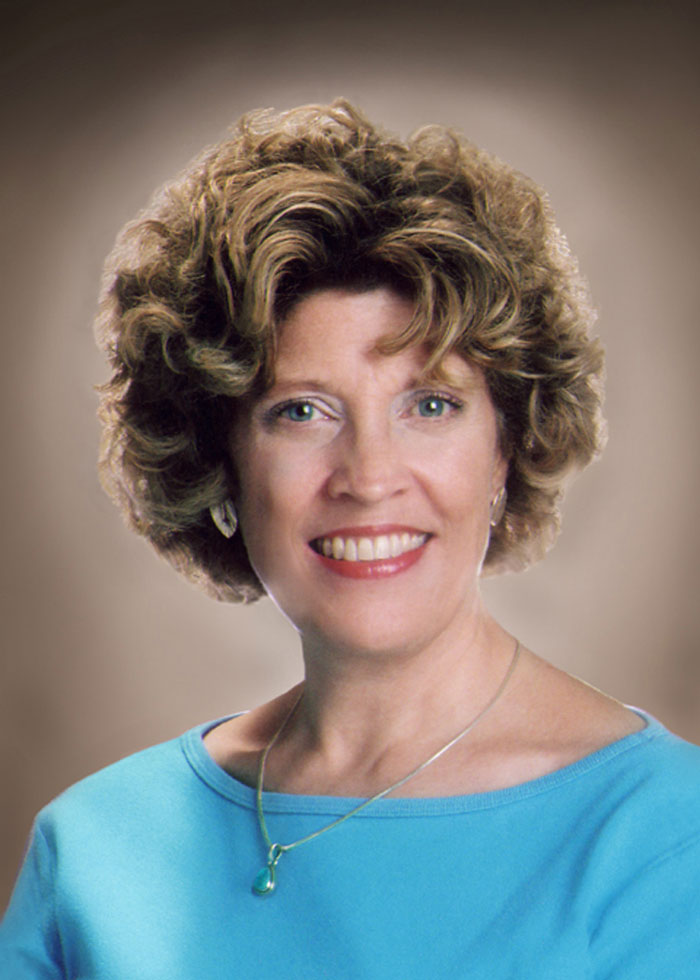 From renowned Astrologer,
Janet Booth:
"Karen A. Hollis has a special "talent triangle" in her astrological chart that shows a gift for contacting Spirit and communicating messages that are both transformative and practical. Her down-to-earth, no-nonsense advice is delivered with caring and heart. She connects to higher wisdom effortlessly, seeing from a broad perspective and sprinkling in a little humor. A natural teacher and sensitive listener, she helps her clients pierce through illusions and lights the way on their life path."
- Janet Booth
Astrology Booth
---
Class Participant: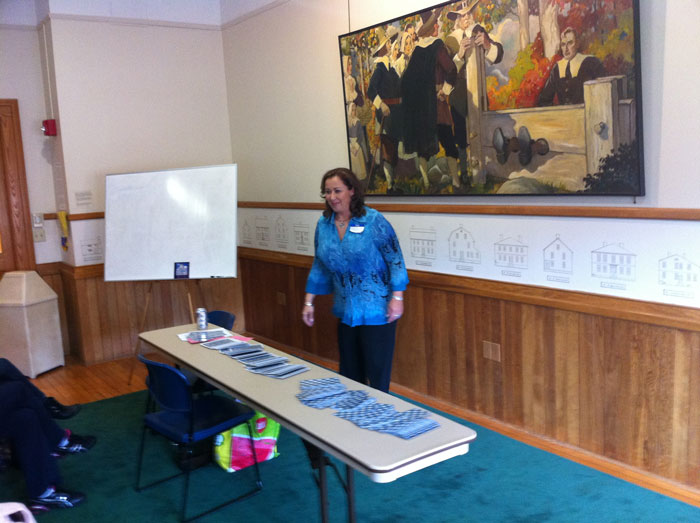 I did my first "practice reading" for someone that isn't a close friend or family. She said everything I touched on was accurate!!!! She also said I have a calm, comforting voice and demeanor as she has had other readings where people didn't make her feel relaxed!
She said I mentioned things that were true that she hadn't shared with others.
To My "mentor" Karen, thank you for teaching me and helping me develope my spiritual abilities in ways that no one i have ever met has been able to do. You touch peoples lives everyday. Thank you for that!
Renee Y. via Facebook
Find out more about Karen's classes.
---
An unsolicited letter
Karen receives many notes, letters and cards from people who have had readings from her. Additionally, many connect on her Facebook page. But this one really took her breath away:
Please note, this person has never had a session with Karen:
Dear Ms. Hollis,
These last few years have been eye-opening for me, to say the least, with the many shows on TV now dealing with the afterlife; with such celebrity psychics such as Amy Allen (The Dead Files) Kim Russo, the late Sylvia Brown and yourself. The Internet has brought you and those like you into our homes and lives to help us to come to terms with loss and the answers to the mysteries of life hidden to the masses, until now. Thank God. This is why I am writing now.
Two years ago, my sister-in-law lost her son to a hit-and-run driver, forever changing her life and leaving her unable to deal with this loss. I have watched Theresa Caputo (the Long Island Medium) and others heal those wounds of the heart and allow people to move on. When I saw you on TV, I realized that you have these same skills and were legitimate. I have been wanting to give this gift of healing to my sister-in-law but I knew I had to wait for the right time.
I will be contacting you soon and setting up a telephone appoinemtnt for my sister-in-law to help her to heal. I was going to get a reading for myself first but, after watching your work on television, I decided my sister-in-law needs to talk to you right away.
Thank you for your time and for what you do. It truly is God's work. I can't think of a more rewarding job a person could have. May God bless you.
Yours truly,
Kerry H.
Oregon
Note: I was so moved by this letter. It is these letters and testimonials that give me the positive response that lets me know that my work in Spirit is, indeed, a real service to all who take advantage of what I have to offer.
---
Mediumship
Karen,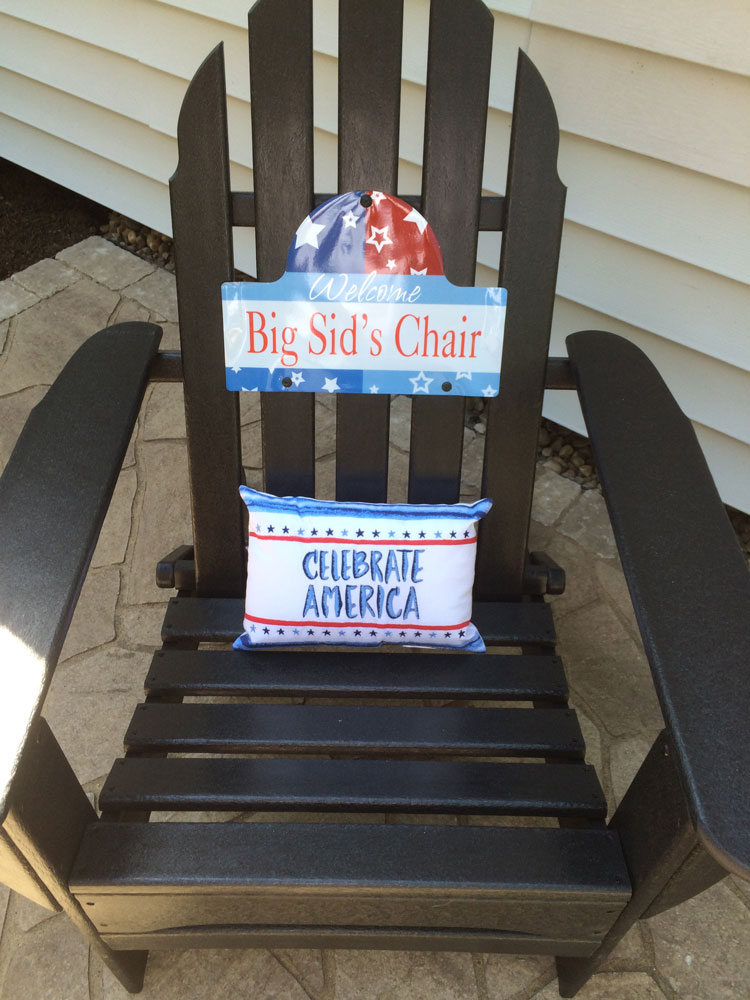 My father's favorite patio chair.
There are not enough words to express our sincere gratitude for everything you have done for my husband and myself. Grief-stricken and heartbroken, you helped me get to a place where I have learned to live with my parents in a different way. With your ability to connect myself with my parents, I have moved forward into a good place and found the peace in knowing that they are both happy, safe and together again. With each and every session, you bring me closer to them and I cannot thank you enough. Although I will miss them daily, I take comfort in knowing that they are with me always and only a whisper away. Losing my father a year ago seems like a lifetime but I have enjoyed his comforting words, advice and love. Through you, he has guided me through some confusing situations and assured me he is with me every step of the way. Without you in my life, I never would be where I am today. With that said, I love you and appreciate you each and every day.
I would also like to thank you for giving my husband peace after 30 years of grief. Ever since we met you, he has been embraced with his mothers love and only you could do this for him. His mother has communicated what he needed to know and now he is in a better place because of you. Like myself, he counts the days until we see you again. Knowing him for over 28 years, I have never seen his eyes so bright with peace and content. Thank you Karen Hollis.
We love you,
-Kathy and Michael H.
My session with Karen was amazing! She was spot on with everything she shared with me. She spent a lot of time with me and I never, ever felt rushed out of her office. My Dad came through and there is no way that she could have known the things that she shared with me about him. Everything that she shared with me was right on target. I walked out of her office in awe! She helped to answer many questions that I had. She was very engaging and compassionate.
Thank you, Karen, for an amazing experience.
-Nancy N. via Yelp
Thank you from the bottom of my heart...my heart is so full after today. My dad was able to come through through you and it just validated what I know...That he is around us all today and always
Bonnie Jean A.
---
Readings: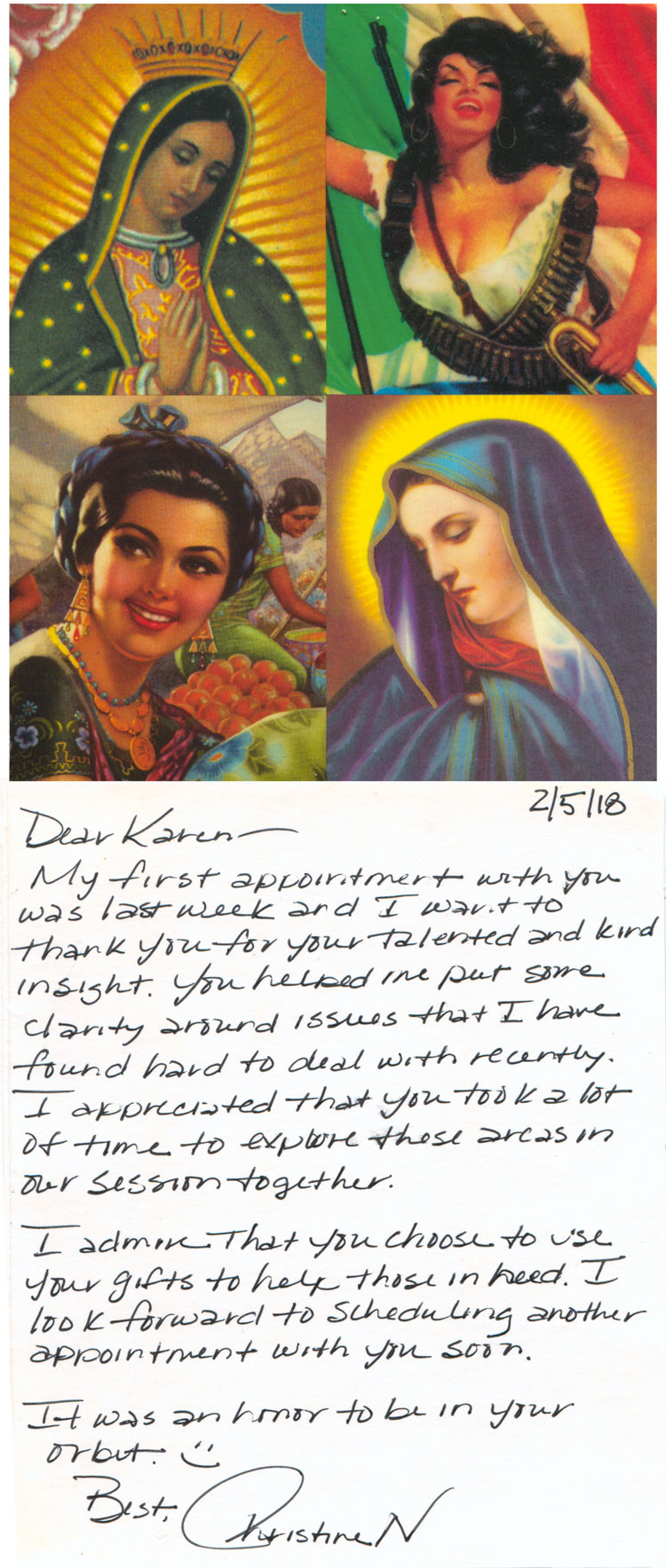 Dear Karen—
My first appointment with you was last week and I want to thank you for your talented and kind insight. You helped me put some clarity around issues that I have found hard to deal with recently. I appreciated that you took a lot of time to explore those areas in our session together.
I admire that your choose to use your gifts to help those in need. I look forward to scheduling another appointment with you soon.
It was an honor to be in your orbit.
Best,
Christine N. via handwritten note.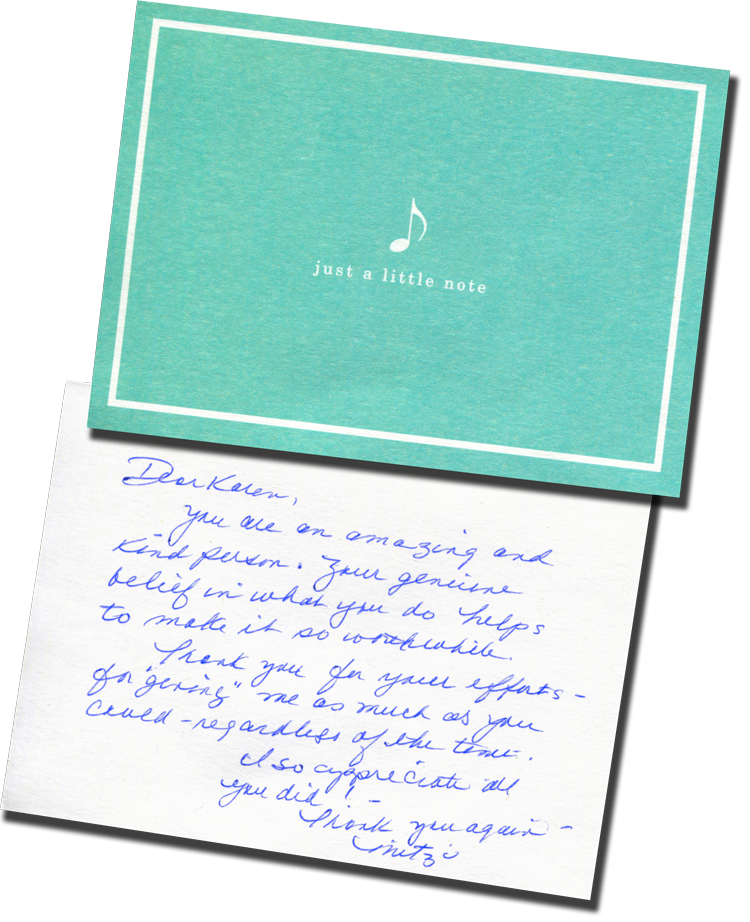 Dear Karen,
You are an amazing and kind person. Your genuine belief in what you do helps to make it so worthwhile.
Thank you for your efforts—for giving me as much as you could, regardless of the time.
I so appredicte all you did.
Thank you again, -Mitzi G. via handwritten note.
What a wonderful experience! Exactly what I needed! Extremely accurate. Karen is an amazing, beautiful soul, with the GIFT! Everything I wanted to know was answered. Thank you so much for the insight and knowing that everything is going to be OK!
-Kimberly B. via text message.
My wife had a private reading from Karen and what she told me blew my mind this Karen is the real deal incredible.
Peter C. via Facebook
Hi Karen I just wanted to say you were spot on with career opportunities and I did have an interview …. I couldn't believe how accurate you were with that! I am very hopeful that the rest of my reading predictions with come to be. Thanks again!!
-Joanie C. via Facebook
By far one of the best readings I have ever had!!! She was spot on with everything and makes you feel so comfortable! Definitely, not my last reading! She's amazing!!!
Tonia R. via Facebook
It took me a year to be in a place to finally book with Karen. I absolutely love her energy, you can't help but be comfortable with her. She was right on in regards to myself. Thank you Karen and I will see you soon!
Kimberly P. via Facebook
Karen, I want to thank you again- the things you said as you channeled my dad, have all been amazingly true, and right when he said they would happen, but you knew that!
Linda L. via facebook
Hi Karen. Thanks so much for my reading on Jan 11. When you pulled a child's name out of thin air, I knew I could trust your guidance across all areas. Falling out of my chair in shock after that was a bit of a sign, too. LOL. Thanks!
Jennifer N via Facebook
Hi Karen,
Words cannot express how incredibly grateful and appreciative I am to have met you! The reading you recently did for me was very enlightening, informative and most importantly, brought me some peace and reassurance to my life. You told me things that nobody but me would ever know. You are blessed with a genuine gift. Your kind and compassionate nature comes through in your reading which made me feel very comfortable and at ease. I must tell you that within 48 hours of my reading, two of your predictions came true! Thank you, Thank you!
Warm regards,
Pam S.
Bristol, CT via email
Karen, I wanted to thank you once again for bringing peace to my life. Today is my father's birthday and instead of feeling sad I feel quite peaceful thanks to you. You brought me the closure I so desperately needed. My husband and I have an upcoming trip scheduled and I will be making a appointment to see you when we get back.
Mary via email
Karen: thank you! Today was my first reading and while I was driving home after the session, for the first time in years, I cracked a smile.
You gave me hope.
Paolo M. via email.
Thanks Karen for the wonderful reading…it had insight and validation and of course the amazement factor…everything that for me makes a great reading.
Alane C. via Facebook
I had the opportunity to sit with you for an hour yesterday; it was an enlightening experience. There were some things you mentioned, at the time I couldn't validate but after my reading, suddenly made perfect sense. I learned quite a bit and I'm looking forward to learning more. Yesterday you mentioned online classes; I have to admit I'm a bit curious.
I just wanted to thank you for the experience, I'll not soon forget it and look forward to sitting with you again in the future...to learn more.
Thank you again,
Vicki W. via email.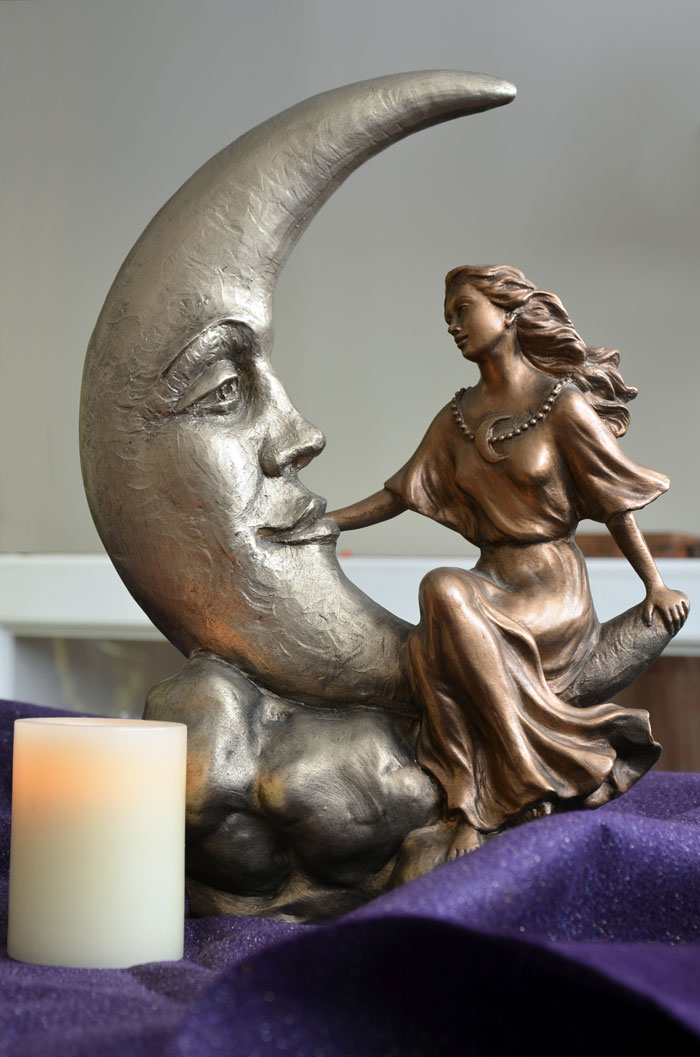 A Treasured Memory From My Father
Several days ago, Karen gave me a treasure; she gave me words from my father who left this world ten years ago. As Karen reached out to contact my father, I waited to hear something trite like he's fine or he misses you but that's not what I heard. Karen said, "He's smiling and told me you'll know what this means, 'bunny'."
A flood of joyful memories washed over me. When I was a child, my father would take me to visit his favorite sister who lived on a farm. We would admire the rows of rabbits and he promised that one day I could take one as a pet. On a special visit he turned to me and asked, "Which one do you like the best?" I cradled a brown eyed baby rabbit and said, "I want this one and I'm going to name him "Bunny."
Over the next five years, when the current rabbit became too big to care for, we would go back to the farm and exchange the rabbit for a small one and I would name him, yes that's right, "Bunny". I had over the years, six rabbits, each named Bunny. Only my father and I seemed to find that amusing and I hadn't thought about it for years.
Karen then said, "Your father finds it funny the way your dog sleeps curled up next to you in bed." We never had dogs growing up as my mother didn't want the mess in the house. As I'm a bit of a germ phobic, I decided not to have a dog either.
Eight years ago in a fit of loneliness, I got my dog and vowed he would never sleep in bed with us, too many germs. My dog had other ideas and knows how to tilt his head in such a way I can't say no to him. Now he sleeps practically spooned up against me. It has become a family joke.
I asked Karen if my father was happy. She replied, "He's smiling and says he's very happy and he's with Bud and Billy".
My father was closer to his brother-in-law, Uncle Bud then he was to his own brother. Bud, who had died years ago, had a son who died shortly before my father, his name was Billy. The rest of my one hour visit was just as startling and true.
Karen is the only psychic I have ever met who I can say is completely authentic. Like so many people I had the occasional doubt about the existence of the next life, I now know there is a next life. The time I spent with Karen was one of the best days of my life.
Kathleen H. via email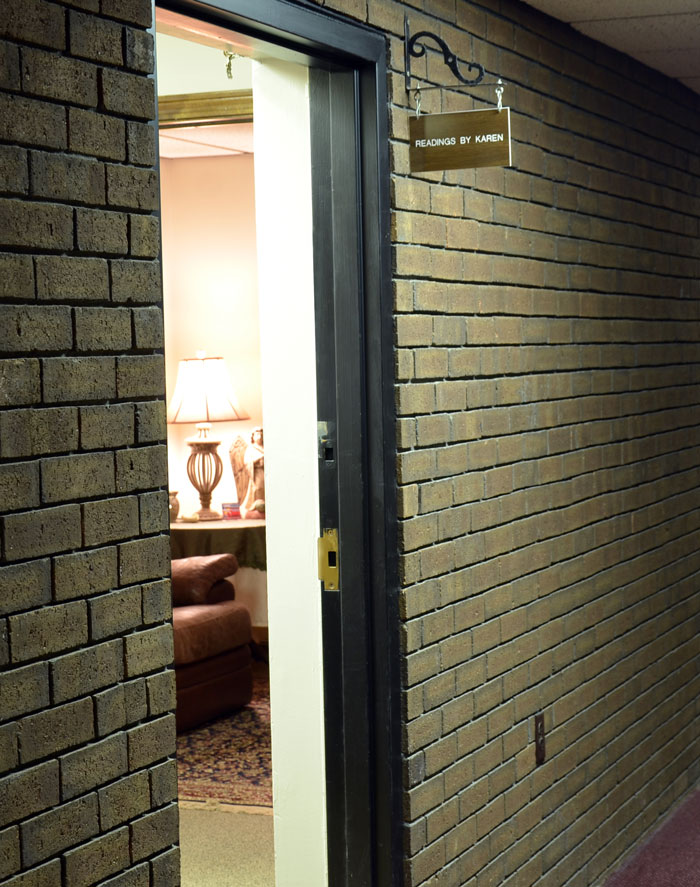 "I had a great reading with you, highly recommend you to anyone that may be thinking about it! They want be disappointed with the Real Deal. You were right on the mark about everything you said and there's no WAY you could have had all the details if they weren't coming from beyond. I've already recommended you to a few people."
-Barb G. via Facebook
In last night's reading, where you did mediumship, you mentioned that my mom, Gertrude, kept saying the words "light blue" and I had no idea what it was. I woke up today and thought OH MY GOD the house I grew up in… When my parents sold the house years ago it was brown and tan with a beautiful brick stoop (as we say in NY) . When the funeral procession went past the house it was LIGHT BLUE, Did Mom see that ? Oh my gosh, that was my sign that mom is still with us! Thank you so much for the validation!
Susan P., via letter
"Karen, I really want to thank you for the time you spent with me today. You read me like you knew me for years."
Kim H., via letter
Accurate, Compassionate Readings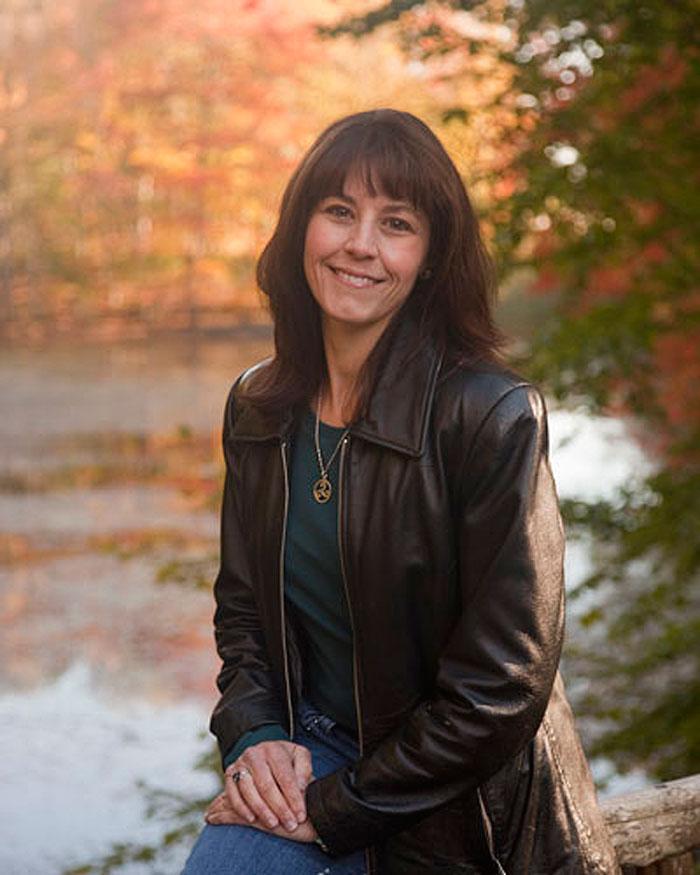 Karen Hollis delivers accurate, compassionate readings. I was astounded when I first met her, two years ago for a freelance writing assignment. Since then, she has continued to "blow my mind"—not to mention friends and family—including my extremely skeptical husband.
Karen M. Rider freelance writer/author
"My reading with Karen was amazingly accurate. She pin-pointed my past struggles and how my soul was dealing with some pain. Her gentle spirit outlined future unfoldings and made me aware of truths that were unseen to me. As an intuitive I was touched by her peaceful light!"
"Watching Karen deliver heartfelt spirit messages from those who have crossed over to their loved ones, she not only delivers their messages with a kind heart but connects the person to a deeper sense of peace and stillness. She is an incredible and wise medium that will capture your heart. "
Melissa Boyd, Deep Blue Truth
I have just finished reading your article on The Way of Tarot. I loved this article; I gained so much from it and had never really thought about it in terms of vices and virtues before. It all makes perfect sense to me.
I have been teaching myself Tarot for the last ten years. I still consider myself a novice and feel a little lost giving a reading, there are so many layers and nuances that I'm still becoming familiar with. That is why I was so excited to see your article and a new way of interpreting a spread.
Being the master that you are I would like to take one of your classes in the future.
Best Regards,
Jean F., via letter
"She sees things as they are and as they will be."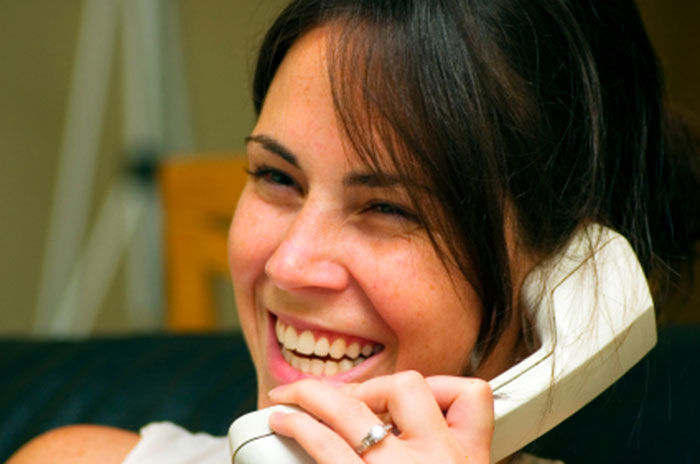 I began speaking to Karen over the phone approximately 2 years ago during a difficult transition in my life surrounding divorce. Karen's uncanny ability to read the situation to a "t" and guide me through the process was incredibly helpful. She was able to interpret actions on my ex-husband's part that I would not have seen and to help me define my reaction.
Since then Karen has been able to guide my many decisions with a wise eye on the future. From stressing over whether a loan was going to come through to a childs heartache, she sees things as they are and as they will be. She has become a friend and an advisor with her keen intuitive sense always being "right on."
I trust Karen's readings and her interpretations to the fullest.
Karen K., Seattle, WA, via letter
Thanks to you Karen, I am able to forgive and I am going to let go of the past hurts and move forward on my new journey. Thank you for taking the time and talking with me during the readings.
Sue S. via Facebook
I have a friend that has been to you several time and she is amazed by your abilities!
Jennifer F.
Glastonbury, CT
I am so glad i met you! You have enhanced my life by giving me great insight. Your readings are dead on accurate! I think you are awesome and you better not leave Connecticut!
"fhinze" via Blogger
I have gone to Karen Hollis several times and she is by far the best psychic and Tarot reader I have had the pleasure of meeting. She has been correct on several significant events that came to happen after I consulted her and she has been able to communicate with my family on the other side who have given direction and guidance through a very difficult time. I continue to consult her for advice and highly recommend her for anyone who needs guidance, support and a peek into the future. Some of my friends have called and/or gone to her and have the same opinion and thanked me for the recommendation. I hope you find this useful and use her for your psychic needs.
Sharon, via Google
I have had a few readings with Karen… she is by far the most accurate reader I have come across. What separates her from the rest is her ability to accurately and specifically answer your most burning questions. Others tend to generalize too much. I usually go in with a written list of questions to ask, but within the first 2-3 mins Karen is able to "detect" ALL my questions even before I ask them. She then spends the rest of the time addressing your most pressing questions and concerns. She is great at "yes" or "no" type situations too… like making big decisions. She doesn't just hit the bulls eye, but hits the bulls eye every single time and from a mile away.
Gaurav S. via Google
Dear Karen,
Talking with you about the Other Side has changed my life here in this plane. You have helped me gain a clearer perspective on some of my reading. Thank you for being so generous with your time in speaking with me. I appreciate it more than I can say.
I have been reading about your classes on your website, and in time I hope to take many of them. I feel so fortunate to have met you, and I am looking forward to visiting you again.
Fondly,
Barbara B. via letter.
Karen's classes provide a wonderful opportunity for like-minded individuals to spend time together, helping each other learn and grow in a loving, non-judgemental environment. In particular, I strongly recommend "Manifest a Miracle - Make a Magic Candle" as I have enjoyed terrific success from the skills developed in that class. Looking forward to taking future classes!
-Kimberly M. via Facebook
When I first met Karen I was at a very emotional point in my life. She is truly an empathetic person who has such a calming nature and can tell you things you need to hear in a way that you can accept them. But the bottom line with any Tarot reader is accuracy and she is spot on. Nothing more can really be said about. Each time I 'visited' over the summer, the cards gave her the same outcome which did come true and in the time frame she had indicated! Situations that I thought were impossible, suddenly presented themselves out of nowhere just as she had predicted. Accurate, Accurate, Accurate... I will never question what she says again! She is extremely knowledgeable about her craft too. Her classes are so informative and fun. I can't recommend her highly enough. What a wonderful person who I am so happy to have met and call a friend.
You were comforting, calming, logical and reasonable. I believe even if you saw a different outcome, you would have somehow been able to get me to understand no matter how much I wanted only one thing. Had I met you earlier and known how truly talented you are, I may have been able to conquer my fears and just "be patient," Your abilities are undeniable. With all of the odds against me, exactly what you envisioned happened in the time frame you predicted. People who know my story cannot believe you were so accurate. The wonderful benefit to all this has been getting to know you and attending your classes. Thank you for helping me to surround myself with good and happy people.
Sherry C. via Facebook and letter
Karen has helped me thru a difficult time in my life. She has shown me clarity and great insight when everything seemed so foggy. I too believe she is a great life coach and thank her for all she has done with me. She has given me stength in my personal life. Thank you.
-Karen L.
Hi Karen...Rita and I want to thank you sooo much for the awesome readings yesterday. You really validated what I've been thinking all along. You have such a gift and we look forward to meeting with you again. - Tina M
Karen is a real treasure. She overflows with an abundance of insight and encouragement. Admittedly, prior to our first meeting I was a little embarrassed and nervous. I had never shared my hopes and fears with someone I did not know personally. My embarrassment and unease quickly subsided as we worked through the questions and issues dominating my life. Her straightforward approach was refreshing. She made me feel like I was talking to an old friend. It was uncanny how she picked up on my concerns regarding recent relationships, before I said anything. Her advice gave me courage and validated the steps I knew I had to take. I also appreciated her patience with all of my follow-up questions and need for confirmation. She made sure I was grounded when I left our meeting. Her advice, insight, and recommendations truly clarified very important relationship issues for me. Since our first meeting, we have settled into a routine of monthly visits which have continued to give me support, pleasure, and encouragement. I can't wait to see her again next month.
- Kevin V. via Facebook
Another great reading with Karen this morning. She is funny, articulate, and insightful. Sometimes we need validitation by another's observation to guide us where we need to go, and for me, Karen's knowledge, experience, and overall messages serve as my map to life. Looking forward to the next time we meet!
As Karen Predicted...I received my awesome news about my new job! Incredible!
- Sonya C. via Facebook
I have known Karen for almost ten years now and her readings continue to fascinate me. Her accuracy is mind-boggling at times. And then there is that famous Karen delivery… None of that New-Agey mushiness. She is smart, sassy, clear and direct. She manages to convey her caring as she gets to the heart of the matter quickly and with incredible humour. Yes, hers are readings you want over and over again.
- Isabelle M. via Facebook
I love going to see Karen, and have had many phone readings with her as well. In the 8 or so years now that I've been going to her, she has always offered phenomenal insight and advice. She is passionate about what she does, and truly looks out for the well being of her clients. She wants her clients to seek clarity and understanding in their search for meaning, and always checks in with clients at the end of the session to see how they feel about it. I love talking with her and feel 100% comfortable asking her questions and letting her know what my concerns are. She has a strong and confident, yet nurturing approach. I have recommended her to at least 15 people, and continue to do so. - Stephanie Z. via Facebook
Karen is extremely accurate and to the point. She is very good at explaining the cards, what they mean and how they can enhance your life. I am proud to say I have had many readings with her and she is always so on! If you look to gain anything from her readings, she will give you encouragement to live your life positively. I find Karen to be a great source in life-coaching. You will always have a feel good session with her! - Frances S. via Facebook
You really have a comforting presence and I appreciated the advice you gave me. thank you so much for your insight and encouragement. It was just what I needed to hear and for the first time in a long time I don't feel "stuck." - Kathy P.
"Karen's readings are phenomenal!" - Kathy N.
"Karen's gifted insight helped to validate my business decisions for the upcoming year!" - Bob G.
"I recommend Karen highly. She is one of the best intuitives I have trained." - Virginia R.
" Karen is amazing! I will be happy to pass along her name to others." - Rita P.
"The Reading that I got from Karen far exceeded anything that I ever expected!" - Elaine A.
" Karen's reading confirmed what I already knew to be true, and gave me hope for tomorrow" - Paola S. - Milano Italy
"I have passed Karen's name along to so many friends I have lost count. She is wonderful!" - Wendy C.
"The messages that have come thru from loved ones who have passed on have helped me tremendously. Karen is gifted!" - Terri A.