by Karen Hollis
A Life of Service
I asked the Tarot to tell me in its own eloquent way about what it means to "choose a life of service" to others, and to "Source" which some call God. Many people over the years have asked me why I had given up a corporate job, with all the benefits and perks that go along with it to include health insurance, and retirement savings, to work for what materially appears to be much less. My answer has always been that if I had to choose an employer all over again, I would still choose to work for "Source." The feeling of helping another human being along their spiritual path cannot be matched in dollars. Mrs. Randolph, the person I give credit to for teaching me most of what I know about the Tarot and never one to mince words once said to me "are you going to walk your talk, or not?" Virginia was right in her assessment about my own choice to serve others, and apparently the Tarot agreed with her wholeheartedly. Let's see what wisdom it has in store for all of us.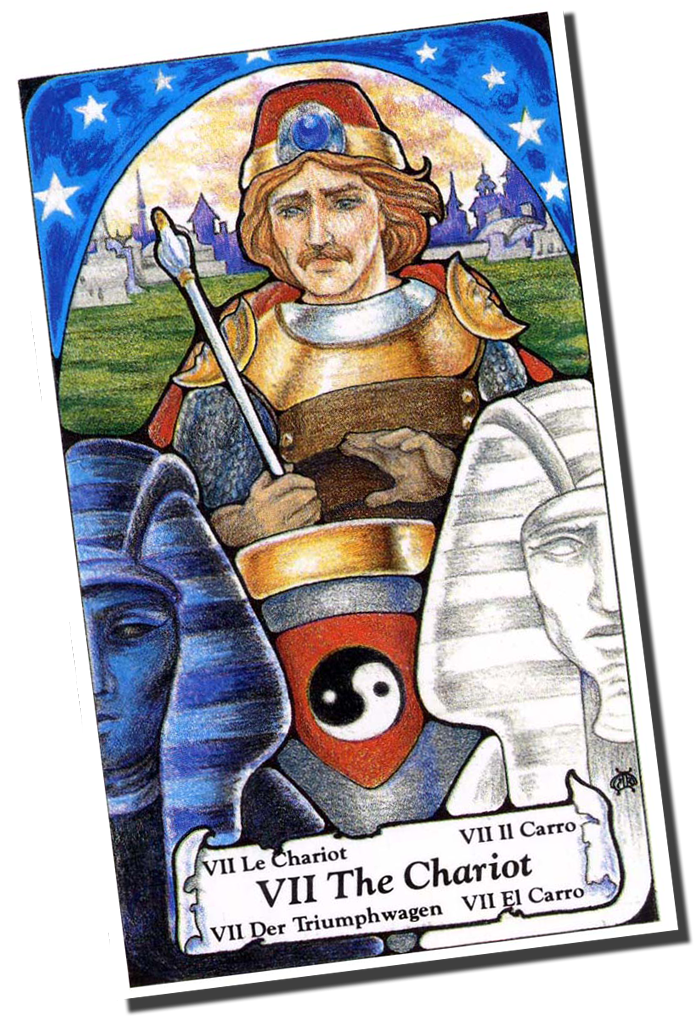 The first card that flew out of my deck upon asking was The Chariot!
The Chariot shows that we all must travel in our human form forward with balance as symbolized by the Ying/Yang symbols on the front of the card. I interpreted the card as we also need to also consider our spiritual form, and keep in mind where we are all headed which is toward the "heavens" as symbolized by the starry night sky in the picture. To live a life of service to others is to work from the heart of one spiritual being to another as we make our way back to "Source."
The Chariot asks us to examine where we can be of service in our daily lives as we move forward on the earth plane.
What "service" do you provide to other people in your daily travels?
Are you making spiritual progress through your life's work?
Do you need to attend professional development classes in order to recharge yourself in order to continue giving to others?
As an example, spiritual progress and service can be as simple as having compassion for people if you work as an aide in a nursing home. It can mean putting yourself in the shoes of your client who may be going through grief, while trying to settle an estate, if you are an attorney. Maybe you work at a bank, and an elderly person doesn't understand their bank statement and you are truly present in the moment while explaining to them. I believe that the Tarot is simply saying that living a life of service can be done while making our living at a job or career of our own choosing.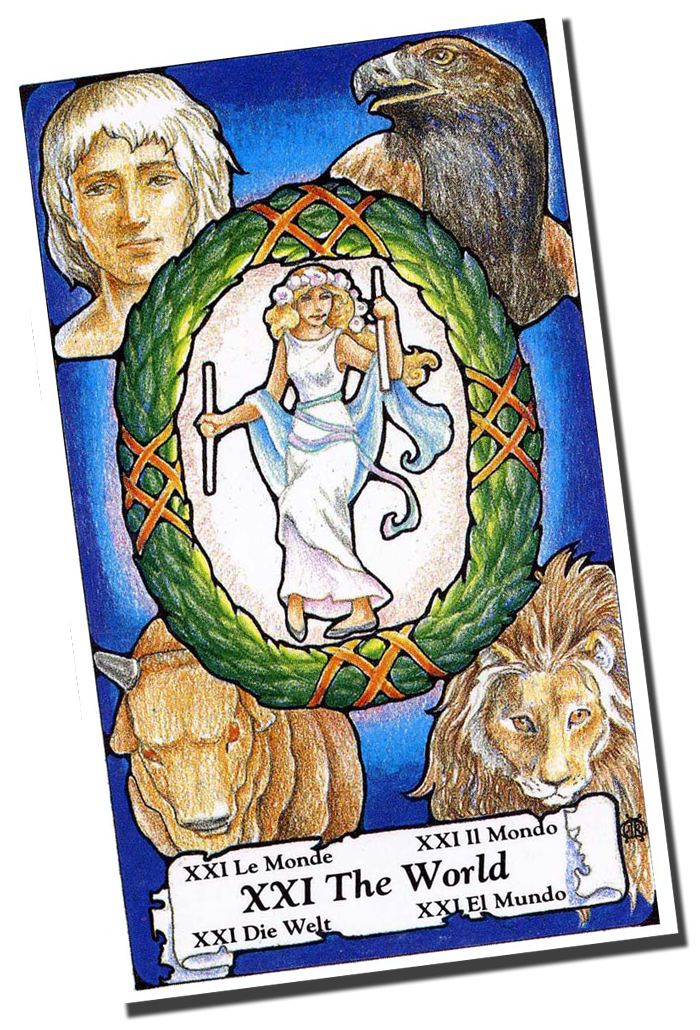 I went back to the Tarot for more wisdom on living a life of service and the next card drawn was The World.
I thought, at first, what a strange thing for The World card to be drawn in reference to a life of service but upon further observation I thought it brilliant in its simplicity! The card shows a woman dancing with joy and abandon as she wields two wands, one in each hand. The wands are symbolic of her ability to manifest and make her world into whatever she chooses it to be. We are the masters of our own universe the card seemed to say. We can choose to create, through our talents, a life of service that does not include poverty or want. The imagery also shows a wreath around the woman that creates a clear boundary for her to dance within.
The World asks us to think about talents and boundaries as we serve others.
Do you know what talents you were born with and are you using them to create the life you deserve, and that will serve you spiritually?
Do you have good boundaries, as depicted in The World card, with the people you choose to serve?
Are you enjoying what you do as you serve others, and if not how can you change that in your life?
Another example is when you get into an airplane and the fight attendant goes through the list of instructions on how to have a safe flight, and they always mention putting on your own air mask first before putting on the person's mask who is seated next to you. The reason for this is that we must first self-protect in order to be of any help to others. If we "pass out" then we cannot give to another!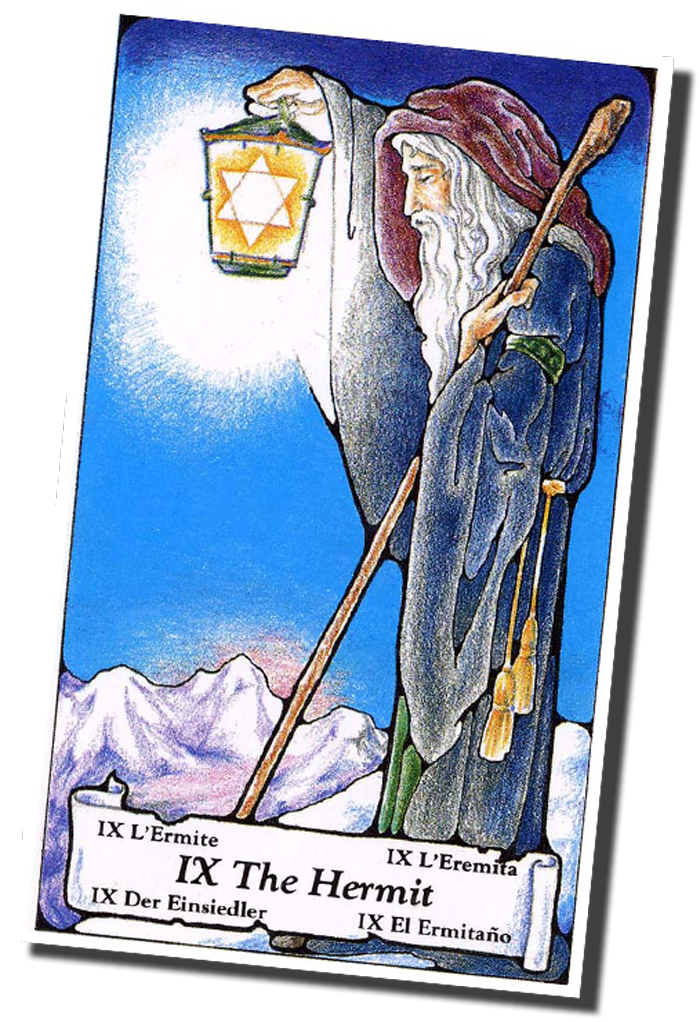 The final card that came to answer the question about choosing a life of service was The Hermit.
The major Arcanum card entitled The Hermit asks us to lead by example. Sometimes, being a quiet beacon of light that promotes peace and understanding is as powerful as taking action as in the first card drawn, The Chariot. I have often thought of The Hermit card as the guardian card, or the card of "God" or "Source" watching over us. It also says to me that we need to meditate in order to find the strength to be able to have or be what is required to serve others. I can relate to The Hermit card as it depicts a singular figure holding up a light for all to see.
The Hermit suggests to us how we relate to choosing a life of service to others.
Is it in your path to lead through sheer example by letting your light shine for others to emulate?
Are you prepared for the loneliness that such a path may present you with if you work to serve others as a singular practitioner?
Do you have the discipline to meditate so that you can recharge directly from "Source?"
No matter what you choose to do in life, I wish you safe journeys that are balanced and move you forward spiritually as in The Chariot. I hope that your world has boundaries, and is filled with magic that you manifest with all of your talents as depicted in The World card. Finally, and most important, I hope that you see yourself as a shining example of God or "Source" made manifest in this world that is crying for hope and guidance.
Namaste~ Karen
---
Karen Hollis is one of Connecticut's most highly regarded professional psychic/mediums. She is a sought-after Master Tarot reader who has over 30 years experience both reading and teaching the Tarot. A former marketing executive, Karen leads dynamic workshops throughout New England. Karen has been featured on Discovery Channel's, "A Haunting" and "Paranormal Survivor." She is the Lead Psychic-Medium Investigator with Ghosts of New England Research Society (G.O.N.E.R.S.). She continues to study under International Mediums to hone her skills.
For a reading with Karen, please call 860-665-8024 between the hours of 9:00a.m. – 7:p.m. EST.
Illustrations of the Hanson-Roberts Tarot deck reproduced by permission of U. S. Games Systems, Inc., Stanford, CT 06092 USA. © 1985 U. S. Games Systems, Inc. Further reproduction prohibited.